Exploring Texas Adventures
Adventure Awaits in Conroe, Texas
Nate and I met seven years ago on a fishing trip during our freshman year of college, and we clicked instantly.
As we dated throughout college, we were very active as a couple. Nearly every weekend we'd pack the Jeep and head to the nearest state park or lake. Now, as married professionals early in our careers, we both work close to 50 hours a week with little downtime or breaks from our phones. We needed to remember what it felt like to spend time together, away from the office and endless demands.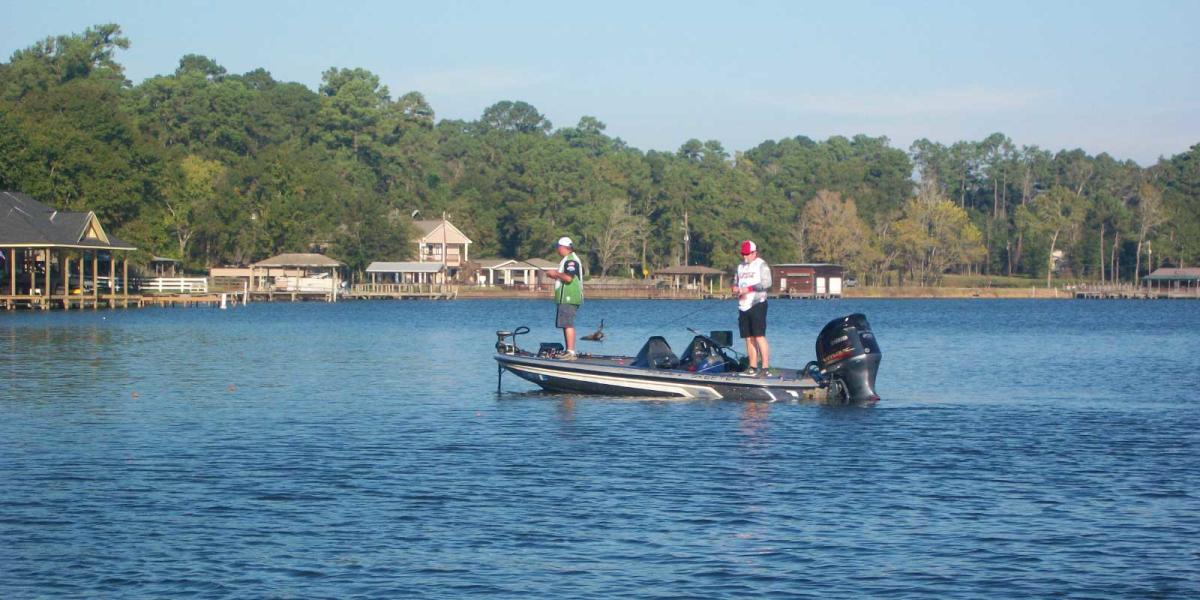 Reeling It In
I researched "fishing in Texas" to surprise Nate with a weekend getaway. I needed a nearby destination with great fishing but also with the culture Nate and I look for when we travel.
Conroe, just north of Houston, fit the bill with a lake, a reputation for acclaimed fishing, and a vibrant downtown. I booked our private fishing guide on Lake Conroe, which made for an easy planning process. Our guide would provide the boat, all the gear, and take us to the best spots to fish.
We met our guide, Bobby, early in the morning. "It's a good day for fishing," Bobby announced. "Calm waters, good weather, and it's Lake Conroe. Every day's a good day for fishing here."
I guessed he was probably right, as Game & Fish magazine included Lake Conroe on their 2017 list of top Texas bass fishing spots, and the lake played host to the Bassmaster Classic 2017—the Super Bowl of professional bass fishing.
Nate and I caught 10 fish between the two of us that morning: striped bass, black bass, channel catfish, and a bream. My catfish was the largest catch, measuring 16 inches long. The sun warmed our bodies; the water eased our minds. I didn't miss my usual constant stream of emails and deadlines one bit.
As we docked the boat, we spotted a bald eagle! A friend told me the birding in Conroe was noteworthy, but I had no idea I might spot the nation's bird. Bobby told us the bald eagles typically make their home on Lake Conroe spring through fall.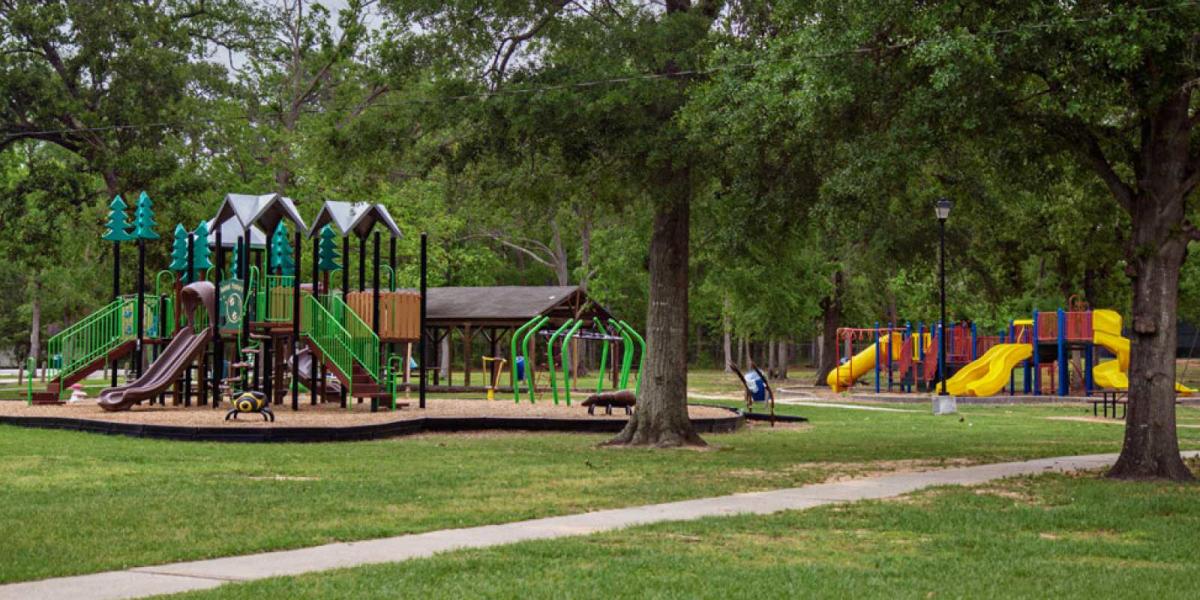 The Perfect Picnic
For lunch, we decided to have a picnic. We had to try Tony's Italian Delicatessen, which Yelp named the Number 1 restaurant in the nation in 2017. It's a sub and salad shop where they create custom recipes using special sauces, spices, and herbs. Their subs are all named after famous Italians. I chose the F. Sinatra with soppressata, mozzarella, Roma tomatoes, basil pesto, oil, and vinegar on Italian bread. Nate ordered the L. Minelli with corned beef, Swiss cheese, sauerkraut, and Russian dressing. We also ordered a Caprese salad to split and an éclair and cannoli for dessert. The friendly guy at the counter wrapped everything up for us to take to Candy Cane Park.
"I love how Conroe has preserved all these huge trees," Nate said as we spread our feast on the picnic table. The park was another retreat where it felt as if life slowed down and the green space encompassed us. After savoring the éclair and cannoli, we opted for a walk on the jogging trail.
At the edge of Candy Cane Park lies the Heritage Museum of Montgomery County. Being the history buffs we are, we had to stop in. We learned how local Dr. Charles B. Stewart designed the official Texas flag and that Montgomery County has been designated the birthplace of the Lone Star flag by the Texas Legislature. We bought a pair of Texas flag coffee mugs in the gift shop, so now every time we drink from them we remember our trip to Conroe.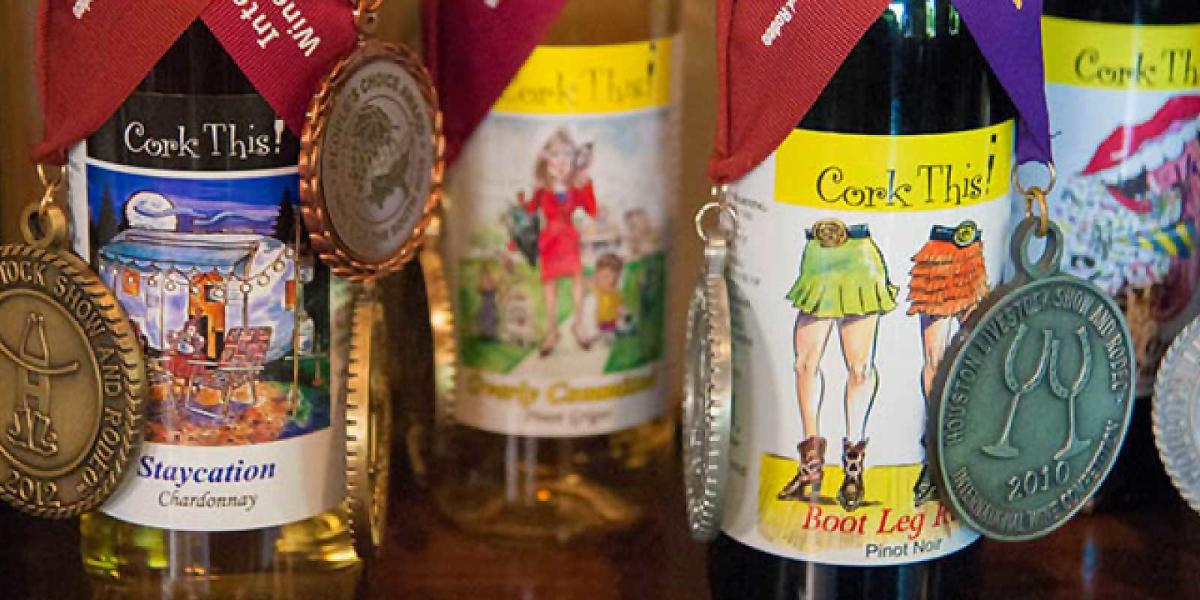 Encountering Spirits
We freshened up in our lakeside resort, and then headed to the evening ghost tour at Cork This! Winery. We arrived early, and I enjoyed a glass of Sisters Who Sip, their blueberry Pinot Noir, and Nate had a glass of their Republic Red, a blend of Tempranillo and Malbec.
Our ghost-hunting group walked outside into the brilliant sunset. We learned about the history and folklore of the area, including stories of gun battles and sightings of spirits of Confederate soldiers. Our group had so much fun that we all shared another bottle when we got back to the winery.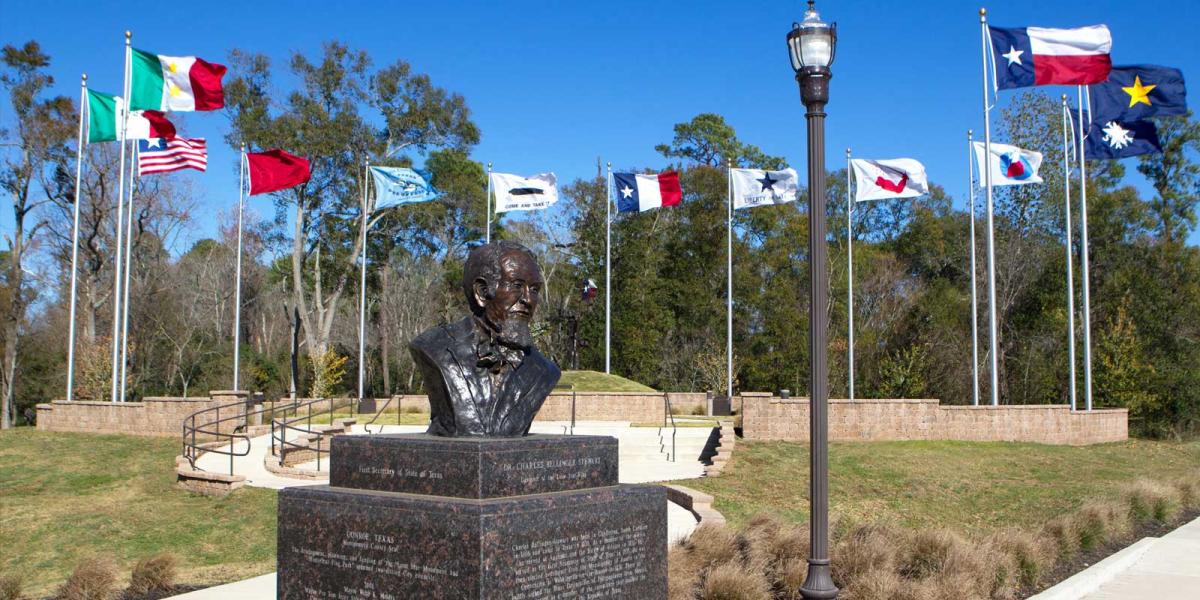 A Texas History Lesson
We slept in the next day and ordered pancakes and fruit in bed. "This is the relaxation we needed," I told Nate as I poured our coffee. After a morning spent reading poolside for me and playing on the golf course for Nate, we had lunch on the patio of our suite. We laughed about how I "caught" a tree limb on our first fishing trip back in college. I wasn't even tempted to check email on my phone.
The Lone Star Monument and Historical Flag Park was next on our list. I'd heard this is a must-see for Texas history. There's a meaning to nearly every detail of the "Texian" monument, symbolizing a Texas Revolution veteran unfurling the Lone Star State flag for the first time, three years after the Battle of San Jacinto. The 13 rocks under his left foot represent the 13-day siege at the Alamo. The 18 buttons on his outfit symbolized the 18 minutes fought at San Jacinto.
I didn't know more than 50 flags had flown over Texas during the Texas Revolution, and it was quite interesting to see 13 of them here.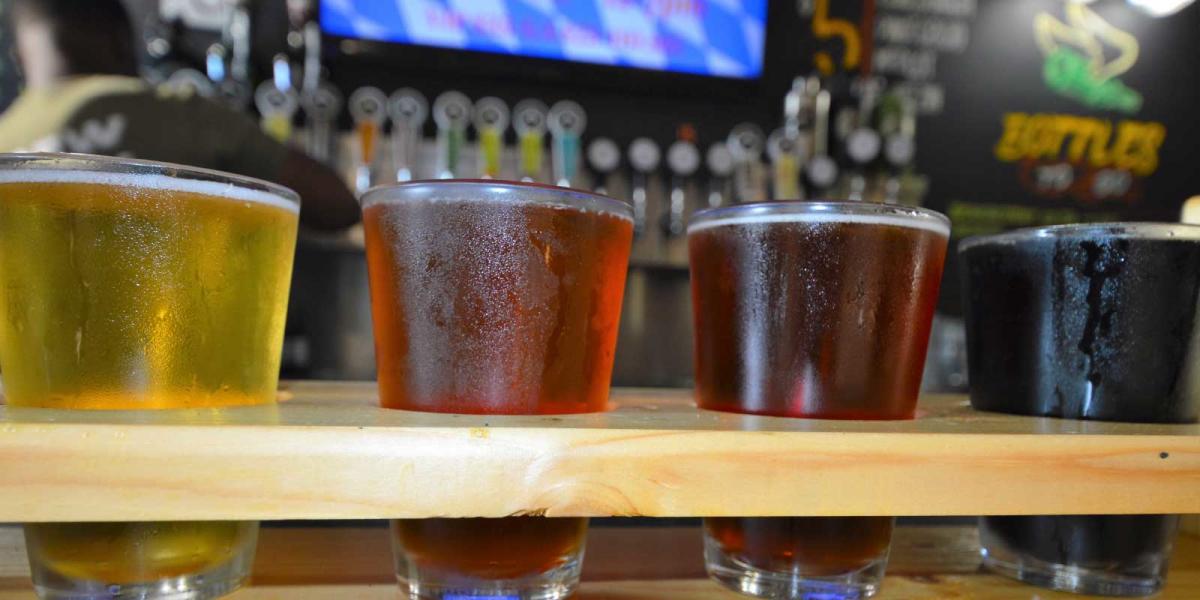 Brewing Up A Good Time
There are several craft breweries in Conroe, such as B-52 Brewing Company, Southern Star Brewery, and Copperhead Brewery. We decided to try the selection at Copperhead because it was a five-minute drive from the Lone Star Monument. We sampled nearly all of their cleverly named creations and especially liked their double-dry-hopped double IPA, Feeding Frenzy, and the Belgian dark strong, Medusa.
We spent the afternoon at Copperhead playing pool and talking with locals and travelers. Our stomachs started to growl, and one of the locals recommended we check out the food and live music at The Red Brick Tavern.
My Hatch chile pulled pork enchiladas were delicious, and the small bite I had of Nate's double-cut pistachio-crusted pork chop was unbelievable. Though we were stuffed, we were enjoying the musician playing that night, so we ordered the skillet brownie and another round of drinks to stay longer.
When dinner was over, we walked a few blocks in downtown Conroe. We didn't want the day to end. We passed by the Crighton Theatre and saw the list of what would be playing soon.
"Just the excuse we need to come back!" I said. Then, we passed by the Owen Theatre and that sealed the deal with their upcoming performance of And Then There Were None.
On our drive back to our resort, we decided to go ahead and book our next weekend getaway to Conroe. We committed to spend more time outdoors together with no work calls. Plus, Nate actually thinks he can catch a bigger fish than me on our next trip. Ha!