Founding of Conroe
Discover the Rich History of Conroe TX
A day trip traveling north from Houston takes you down memory lane to the historic city that is Conroe, Texas. Conroe was established after the Civil War when a retired Illinois Cavalry captain came to Texas, hoping to make his mark in the lumber industry. His mark created an enduring legacy.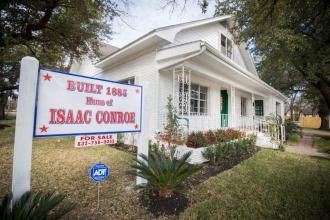 In 1881, Isaac Conroe positioned his sawmill at the junction of the Union Pacific and Burlington Northern Santa Fe railroads in Montgomery County. This strategic crossroads paired with an ample supply of pine forests for lumber helped Conroe to flourish. Settlers poured in, bringing with them the need for homes, schools and church congregations—all of which sprung up quickly.
Before the turn of the century, Conroe blossomed into a major shipping center for livestock, lumber and crops with mills, brickyards a cotton gin as well as hotels, general stores and a rapidly growing population. On a visit to this small town, you are treated to walk down memory lane as you discover the carefully preserved Old Historic Downtown Conroe.
When in Conroe, you have the opportunity to follow in its founder's footsteps. Just three blocks from the Montgomery County Courthouse in the heart of downtown, you'll find the Isaac Conroe Home, built in 1885 by the town's namesake. Wandering the historic home's hallways teaches you about its early years as the town's post office and temporary courthouse. This Texas historical landmark transports you to the past with restored interiors, period furnishings and an Isaac Conroe look-a-like contest at its annual Founder's Day celebration.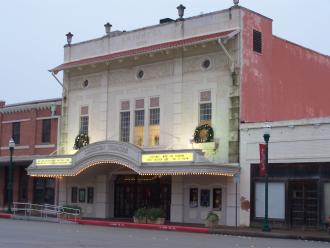 Like much of the country, Conroe took a heavy blow during The Great Depression in the 1930s. Many mills and businesses were shuttered before George W. Strake struck oil on the outskirts of town in December 1931. Soon the local economy began to recover as petroleum wholesalers and workers flooded in. Although it was a brief reign, Conroe was once home to more millionaires per capita than any other town in the United States, thanks to its oil fields. To aid production, Conroe's streets were finally paved during the 1930s, and US Highway 75 was extended into town.
The discovery of oil not only brought new blood to town but also inspired local entrepreneurs to seek their fortune. In 1934, Mayor Harry M. Crighton sold his drugstore in favor of the oil business. His success, bolstered by his civic pride, led him to open a grand theater in town.

Built in 1934, Crighton Theatre offered 50-cent movie admission and air conditioning, making it a popular escape during the hot Texas summers. You can now attend movie screenings as well as live theatrical productions at the storied playhouse. A recent highlight of the Greater Conroe Arts Alliance's "Rising Stars and Legends of Texas" tribute was the screening of a short film about " Bonnie and Clyde." The movie tells the local folktale of the infamous couple taking a break from robbing the frontier's banks to hide out in a Conroe hotel.
For an added dose of local art, you can visit the Conroe Art League, housed in the Madeley Building. The century-old structure is an iconic edifice in the historic district. It was built shortly after a devastating fire tore through the streets of downtown in 1911. Used first as a meat market, the structure housed retail shops and the telephone company before the property was purchased by the city. The building was renovated as part of the downtown revitalization program and now showcases paintings, sculptures and other artwork from the surrounding area.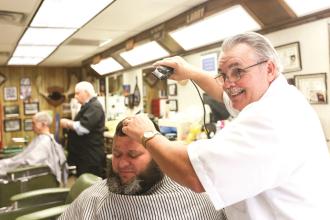 If you're looking for live music for a night out dancing, head to The Corner Pub. On any given night, you can find a diverse lineup of jazz, blues and acoustic guitar concerts performed on stage at this entertainment venue. Beyond musical numbers, you will find open mic nights, poetry reading and comedy shows on the pub's packed calendar of events.
In 1955, Elvis Presley performed with the rest of the Louisiana Hayride musicians on the Conroe High School football field and is said to have also sung for crowds at The Corner Pub. If you're a fan of The King, stop in to hear his hits covered by local artists or swing by Shepard's Barber Shop where his legendary locks were trimmed.
Established in 1912, Shepard's Barber Shop is the oldest barbershop in Texas and maintains its original rotating barber's pole, striped awning and green vinyl chairs. Although the price of a haircut has risen since Presley cut his hair here, the shop embraces days gone by with black-and-white photos framed on the walls, a shoeshine stand and offering traditional services like straight razor shaves followed by steamed towel wraps.
You can pay tribute to the area's earlier history at Lone Star Monument and Historical Flag Park, sponsored in part by the locally based Spirit of Texas Bank. The 3.5-acre park's monument, a single statue depicting a volunteer soldier, is centered on a manicured plaza surrounded by the 13 flags that each flew above Texas throughout the state's storied tenure before landing upon the Lone Star flag.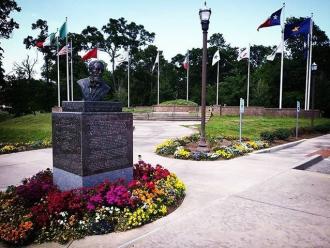 The park is adjacent to the Montgomery County Library and down the street from Candy Cane Park. Within the park's 24 acres you can play tennis or basketball, take a dip in the community pool, picnic around the gazebo and delve deeper into the past at the Heritage Museum of Montgomery County. You can learn about the area's timeline from prehistoric times with galleries, artifacts and a Discovery Room designed as a log cabin where you can try on pioneer clothing.
Over the last 130 years, Conroe has transformed from a homestead for miners hunting their fortune to a haven for art enthusiasts and history buffs. The historic downtown has something for everyone with live music, theater and locals eager to share the town's rich history with you. With new shows, festivals and performances coming to town constantly, there is always a new reason for you to book a weekend getaway to this historic, beautiful town.