Explore the heartland of Texas and you'll find out why so many couples plan their wedding in Conroe. Thanks to its rich wilderness filled with lakes and rivers, along with a historic architecture that stays true to old Texas, the city is gaining popularity as an ideal location to tie the knot. Planning a wedding ceremony can be stressful, but it doesn't have to be if you have your big day in Conroe, where everything you want is at your fingertips. From hospitable venues to accommodating florists to spectacular photo ops, here's how to plan the perfect wedding in Conroe.
Venues
The Grand Hall
Being surrounded by stunning a landscape of towering trees and pristine rivers make the Conroe area a perfect spot to plan a rustic wedding. The Grand Hall in Montgomery (just outside of Conroe), is the epitome of rustic meets elegance. The venue resembles a Lincoln Lodge in mint condition made of rich wood paneling and surrounded by a manicured garden with patio lights. You can get married in the chapel barn that's outfitted with crystal chandeliers, garlands and a porch swing overlooking the garden; what a beautiful spot for a photo op. Your wedding party can also stay on the premise since Grand Hall is located at Deer Lake Lodge, so they won't have to scramble far from your room to the party, giving them plenty of time to prepare on your big day. The lodge also doubles as a spa so you can pamper yourself before tying the knot.
Magnolia Bells
In Magnolia, Texas, locals are proud of this breathtaking venue that makes a perfect setting for a romantic wedding. Magnolia Bells has two places you can choose from to say "I do." The Chapel is recognized for its rich stonework and dramatic wooden doors. Step inside and you'll be surrounded by an elegant atmosphere with copper flooring, arched windows and wooden ceilings. The Chapel has additional private rooms where you and your fiance can get ready before saying "I do." Or go for a more rustic, yet still luxurious barn option where your guests can watch you exchange vows in a stylish barn made of reclaimed wood, weathered metals and fancy chandeliers suspended from the ceiling. The barn is 7,000-.sq.-ft. so there's plenty of room for a party with up to 240 guests. You can rent out the Bride's Cottage that's designed to help prepare you for your wedding. Inside the cottage, you'll find a large vanity room, a deep tub and a large high-end kitchen.
Ashelynn Manor
If you're not picturing a rustic wedding, consider the extravagant Ashelynn Manor that will make you feel like the belle of the ball. For larger parties, an antebellum-style manor can be rented out and has plenty of fantastic spots to take photos while you celebrate your big day. Have a fairy-tale moment as you walk down the dramatic spiral staircase to open the front door. For a more modest wedding, opt for the Vintage White Chapel venue that's picture-perfect and surrounded by a white-picket fence. Although the chapel was built in 2008, it's designed to resemble a 100-year-old chapel with vintage charm. Or dance the night away at the Carriage House, which has 5,000 square feet of entertainment space that can comfortably fit up to 275 guests. If you and your sweetheart prefer to get married outdoors, that's where the Amish-style Garden Gazebo comes in handy. The party will be surrounded by a lush garden with the manor as the backdrop.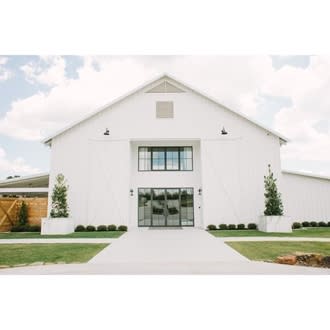 The Farmhouse
Barn-style weddings are popular in Texas, but you'll want the best barn venue you can find. The Farmhouse is a stunning all-white building with modern lighting and minimalistic feel. This venue is the perfect blank canvas for you to create the wedding of your dreams. The Farmhouse is situated on a neatly-trimmed meadow with patio lights and a game courtyard so your guests can have the time of their lives after the vows. The wrap-around porch has plenty of seating, and your guests can play games like Cornhole, Jenga and other old-fashioned games during the cocktail hour. The Farmhouse also has a bride and a groom suite on-site for couples to get ready in a glamorous setting. The farm can accommodate up to 300 guests.
Hair, Makeup and Nails
The Conroe area is home to plenty of beauty salons to accommodate both the bride and the groom. In Montgomery, there's Bonsai Spa & Salon, Crown of Glory Salon and Beyond Fringe Salon. In Conroe choose from City Hair Salon, Elite Salon & Spas and Alter Image Salon. Whatever style and treatment you're looking for, you will find it right here.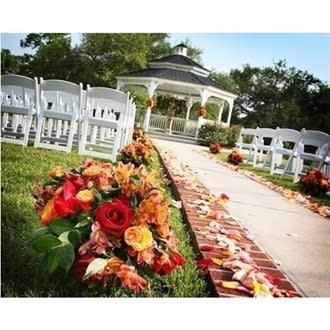 Florists
Whether you prefer traditional flowers, dried bouquets, or perky arrangement of peonies and daisies, you can find your exact style in the area. There are 12 florists to choose from including Rainbow Flowers, A Different Bloom and The Blossom Shop. The flower shops are used to accommodating weddings of various sizes and will customize your bouquets to give you the dream wedding you envision.
Bakeries
Conroe has your back with its top-of-the-line bakeries like Heavenly Cakes and Flowers and Montgomery Bakehouse. Or go for something out of the ordinary if you're doing a rustic wedding and get a variety of pies at Pie in the Sky Company. From cherry pies to cupcakes to traditional three-tier wedding cakes, you'll find what you're looking for at any of these bakeries.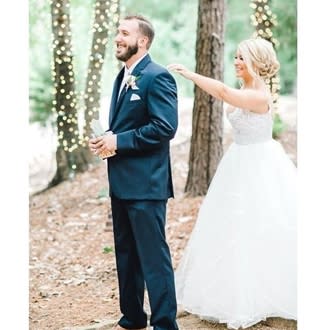 Photography
Selecting a photographer is important for your wedding day as you'll want someone with artistic talent and a keen eye to capture the moment. There are several talented photographers to hire in the area including Pedigo Photography, Rustic Charm Photography and Alastor Grey Company.
Catering
Barbecue? Italian? Gourmet buffet? You name it, the Conroe area has it all to cover your catering needs. For rustic weddings, consider Texas-style catering with Vernon's Kuntry Katfish Catering or McKenzie's BBQ. For more upscale eats, try Danello's Fine Catering or The Posh Affair.