Walking Tour of the Art Benches
In Downtown Conroe
If you didn't already know, the Downtown Conroe area is not only very deep in history, but it is the Entertainment and Arts District of Montgomery County.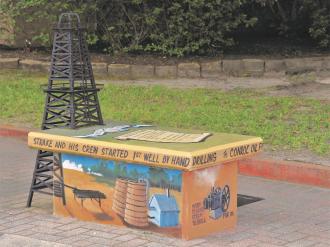 Downtown Conroe is the place you can see 13 Art Benches scattered throughout the courthouse area, on Simonton, Main, and Thompson streets telling the history of Conroe through Art. Have you ever really looked at the benches?
George Strake- painted by Joe Kolb is the story of oilman Strake who discovered oil in Conroe and became the wealthiest man in Houston. Dr. Charles Stewart-etched by Mark Clapham depicts the story of Dr. Charles Stewart who designed the Texas Flag. The Boogie bench was designed by Craig Campobella is a tribute to local music in Conroe through the Sounds of Texas Music Series and Montgomery County Performing Arts Society. Boomtown is a tribute to the lumber industry and Isaac Conroe with his first lumber mill in 1881.
History in Print bench celebrates the oldest daily newspaper, the Courier, designed by Kristy Dupuy and Jerry Parker. Train Depot is all about the commuter trains of the 1880's through the Great Northern Railroad. History in Brief is laser etched celebrating Conroe's earliest industrial businesses of lumber and oil and more millionaires per capita than any other US City in the 1930's.
The Beat Goes On was created by Jerry Parker celebrating the Historic Crighton Theatre built in 1934. The Visual Arts bench was created by the Conroe Art League honoring the impact of the organization that was established in 1933. Crighton Players created by Lynn Peverill honors the original theatre group founded in 1967.
The World War II bench created by Lynn Peverill is a tribute to the Conroe Naval base established in 1939 to protect Conroe's oil from Adolf Hitler. County Fair also created by Lynn Peverill and her students tells the story of the Montgomery County Fair with a rodeo, carnival, and BBQ cookoff. And the Airport bench by Joe Kolb, tells the story of the designated weather station turned to civilians from the military in 1951 to what it is today hosting two FBO's a restaurant, and more.
Download your copy of the Art Bench Walking Tour and see for yourself why Conroe is rich in history, arts, and entertainment! Friendly, intimate, and definitely fun!