Looking for a great summer vacation spot? Why not visit Conroe, Texas this year! This charming town is located just north of Houston and is home to some of the best restaurants, shopping, and outdoor activities in the area. From the breathtakingly beautiful 22,000-acre Lake Conroe with some of the best fishing, hiking and outdoor adventures around to its top-notch Margaritaville Lakeside Resort, this summer hot spot is sure to fulfill your vacation expectations, leaving you with priceless memories and a longing to return.
Relax and Unwind in Margaritaville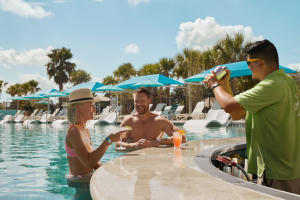 Dog days of summer got you down? Perhaps a change in latitude will put the pep back in your step. Escape with family and friends to the shores of Lake Conroe. Here you will find the tropical, Jimmy Buffett-inspired, Margaritaville Lake Resort. Enjoy the good life at this world-class resort that offers everything you need to have a great time, including luxurious accommodations, first-class amenities, and fantastic on-site dining. Tee off and test your golf game on the challenging 18-hole golf course, treat yourself to a day at the full-service spa, or connect with your adventurous spirit and beat the heat at the lakefront water park that's sure to bring out the kid in you. Check out the variety of watercraft rentals and spend the day on Lake Conroe or relax on the lazy river and poolside at one of the five swimming pools.
When the day concludes, unwind in a brightly colored, charming cottage suite that will have you convinced you are on your own island. Relax and kick back where no shirt or shoes are needed at Lone Palm Pool Bar, a thatched-roof tiki bar and grill that is a tropical oasis, serving American beach food and adult frozen concoctions. Enjoy world-class cuisine at Landshark Bar & Grill, inspired by the traditional beach bars of the Atlantic Coast. You'll find a fantastic mix of mouthwatering dishes as you watch the sunset from the waterfront deck. Or, after a golf round, take a seat at the Playin' A Round Café to indulge in a variety of salads, wraps and delicious entrees. Your hunger will be satisfied at any of the signature restaurants, each with its own style and menu variety. Make the dog days of summer the best days of the year at Margaritaville!
Explore Lake Conroe's Watersports and Activities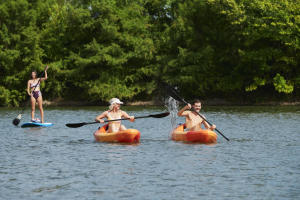 Whether you're an experienced boater, a seasoned watersports enthusiast or just testing the waters, Lake Conroe has a lake adventure waiting for you. Embark on a guided fishing trip, if you're the sportsman type, as Lake Conroe provides trips that are easy to plan and include everything you need. Fishing with a guide will offer you the most unique opportunity to fish in one of the most beautiful lakes in Texas, known for its calm waters and excellent weather. Man-made "attractor" reefs draw in all kinds of fish, from largemouth bass to black and white crappie. Tours and charters provide everything you need from the boat to the gear, so sit back and relax as you're escorted to the best spots in a true fisherman's paradise!
Don't have a boat? Don't worry. Lake Conroe offers a variety of guide services and water sport rental options. Paddle boats, kayaks and jet skis are just some of the options available for daily and hourly rentals. For boat renters or private owners, multiple marinas complete with food, drinks, shops and marine technical services keep you full, fueled and back on the lake. Make sure to save time for dining at some of Conroe's favorite restaurants. Dock your boat and indulge yourself lakeside at local favorites like Fajita Jacks and Monty's Lighthouse.
Perhaps you're looking to spend a romantic evening for two? Southern Empress Cruises offers a monthly lunch cruise and three-hour dinner cruises with dining, drinks and dancing onboard their three-story, 131 foot paddle wheeler.

Explore Scenic Parks and See Plenty of Wildlife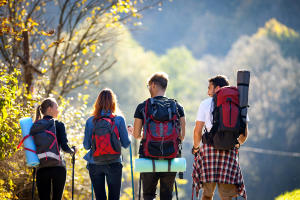 For the landlubbers of the group or those who just simply prefer to take in nature's bounty from dry land, Conroe offers a plethora of options. Trek through 160,000 acres in Sam Houston National Forest, home to the Lone Star Hiking Trail. This hiking trail is known as the "Jewel of Texas" and has over a dozen access points so you can make each hike a new adventure. This is a great trail to visit any time of the year, including spring and winter. New to hiking? Grab a pack and enjoy a day trip. If you're looking for a more immersive experience, pitch a tent and stay awhile in one of the beautiful campground sites.
Whatever you decide, don't forget your binoculars as you won't want to miss any of the wildlife you may encounter including deer, turkey, foxes, quail and many other species of birds.
Bird watchers will enjoy a trip to W. Goodrich Jones State Forest where they can view more than 250 species of birds. Watch the convergence of Mississippi Flyways or search for the elusive, endangered Red-cockaded Woodpecker, bald eagles and Osprey.
If hunting for birds isn't your thing, how about hunting for treasure? Experience geocaching where you can take in the sites as you learn about Texas history and search for over 32 caches. Or venture into Conroe's lovely historic downtown district where you can start off with a fourteen-stage multi-cache. Whichever path you choose, make sure you track it with your geocaching passport. Find all the caches, then swing by Visit Conroe to receive a memento of your outdoor treasure hunt!
If simple and fun is your thing, pack a picnic and head out to any of Conroe's lovely parks. Located on the shores of Lake Conroe, you'll find 13-acre Lake Conroe Park. Spend the day fishing from the piers, cook dinner on the barbeque pits, and let the kids run free in the vast amount of playground space.
Gear up for a summer vacation in Conroe, Texas, the lakeside town that offers plenty of outdoor activities and attractions to keep you entertained. From the shores of Lake Conroe to the luxurious Margaritaville Lakeside Resort, Conroe has something for everyone. Plan your summer escape today.